Life Long Development


At TIAS, we believe in Life Long Development, continuous personal, professional and network development during and after your studies. With more knowledge, better skills and a broader network, you will be able to create more impact and be successful.
Personal guidance


Training at TIAS means personal attention and guidance throughout the entire program. The Program Manager ensures that each participant can focus one hundred percent on the program. And no unnecessary time is spent on practical arrangements, for example in case of illness, holidays or questions about the financing or the study load. The Program Manager relieves you as much as possible. So that you can enjoy getting the most out of the program and get the best possible results.
Flexibility


Studying at TIAS means flexible learning. You can always contact the Program Adviser to discuss which study components are important to you and how you can combine your studies with your work and private life in the best possible way. You will also receive advice on the development of your career, so that you can make the right choices for a successful career.
Dynamic alumni network


We have a large network of former participants. If you are following a course at TIAS, you will have more than 16,000 contacts at once, both at home and abroad. A course at TIAS will literally expand your world and your view of the world.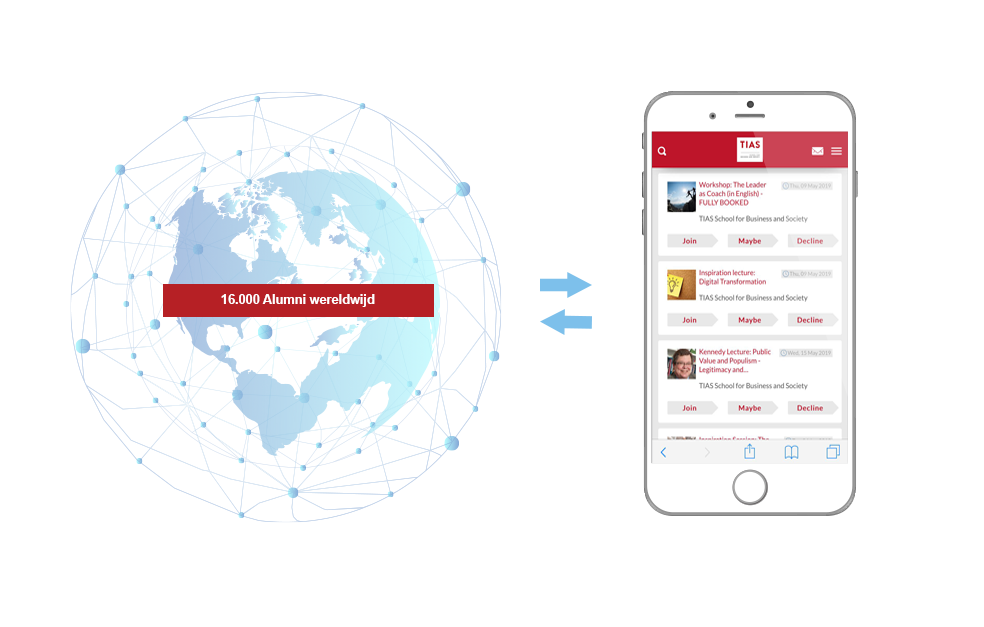 We offer special services for your Life Long Development in three alumni membership packages:
TIAS: the business school for leaders of the future


Climate change, resources scarcity, migration, population growth and poverty have a major impact on our society. Companies have a special responsibility in devising sustainable solutions to these global issues.



Business with a purpose


It takes the right people to do it. Leaders, managers and professionals who can and dare change their organization into companies that operate less isolated from society and find a new balance between their own sustainable returns and their social role. TIAS School for Business and Society wants to become the number 1 Business School in Europe that helps people and organizations with this transition to business with a purpose.



Creating Shared Value


In order to realize this business, the leaders of the future need new management frameworks. These go beyond achieving the highest possible profits in the short term. That is why TIAS focuses on the concept of Creating Shared Value. In all our education programs and research, innovation, long-term business strategies, new sustainable business models and stakeholder involvement are reflected. Tools with which a company, together with its environment, can add value to society.



Never stop asking


At TIAS, we encourage the leaders of the future to investigate and ask critical questions. Even after the training. Never stop asking.
Do you want to know how TIAS can help you?
TILBURG UNIVERSITY
EINDHOVEN UNIVERSITY
OF TECHNOLOGY