MASTER OF MANAGEMENT AND ORGANIZATION
Study load part-time master's program MMO
The part-time Executive Master of Management and Organization consists of 12 modules, spread out over a period of 18 months. At the beginning of each module you will have 3 weeks to prepare through online learning. After this preparation you will follow 3 days of interactive meetings and lectures. Each module is concluded with a take home assignment. You end this part-time MMO master's program with a master's thesis. The program includes interactive lectures, simulations, debates, peer consultation and experiential learning. Theory and practice are closely interwoven.
Themes of the modules
In organizations, everything starts with the employee. It is the employee who executes the strategies. The management and the organization must facilitate, support and develop the employee as well as they can. MMO consists of four parts: Purpose, Direction, Ability and Movement, built according to the model below.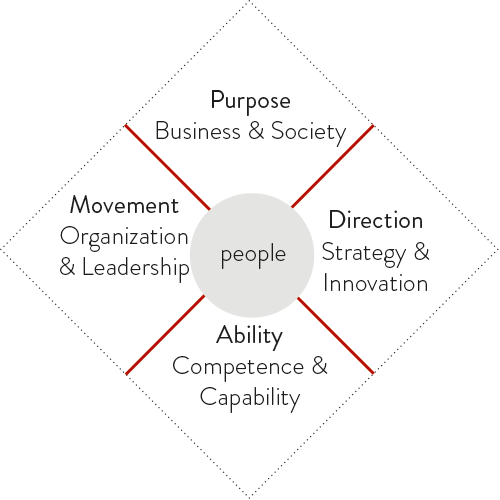 Premaster
We aim for groups of participants with a lot of talent, experience and potential. We strive for an equal level of knowledge of the participants. Therefore, a premaster can be a requirement for starting the program. The premaster prepares participants for the subject-specific modules and focuses on basic academic knowledge and skills. The premaster consists of three modules: Accounting and Finance, Quantitative Methods and Academic Reading and Writing. The first two modules are concluded with an (online) test, the last module with a paper.
More information about the content of MMO?
Read more about the modules and what the Academic Director say about this Master:
Tailor-made for participants
Studying at TIAS means studying on demand. The Executive Master of Management and Organization has several starting moments every year. In addition, there is the possibility to take more time to complete the study. You can therefore organize the program flexibly, so you can focus on your own development.
Do you have a question about MMO?
TILBURG UNIVERSITY
EINDHOVEN UNIVERSITY
OF TECHNOLOGY